Many cultures (Mayan calendar) and prophets (Nostradamus doomsday) have predicted 2012 to be the end of the world. In my view they aren't talking about the end of the world, but a change in the world as we know it. The world has changed before and we're still around to remember them and be inspired. There is therefore nothing to fear about change for that's the very nature of our world.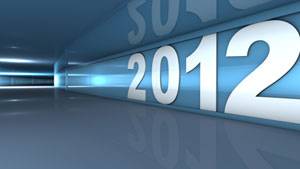 The safest prediction for 2012 is that the world continues to change. A bolder bet is that 2012 bring paradigmatic opportunities for companies to accelerate their supply chain performance through superior software combinations. And that's true regardless of we exaggerate what's to happen in the near future and understate the long term effects.
The advantage of cloud computing, accessibility provided by mobile devices and social media have so far had much greater impact on consumer IT than on enterprise IT. When these advantages combine with service-oriented architecture design, in-memory computing, low cost +100Mbps networks and much richer Web user interfaces (UI) we are at the brink of a great new era for enterprise computing.
I believe 2012 mark the beginning of a great new era for enterprise computing to benefit my favorite business constituents: the supply chain domain and application developers. However, to be really successful two things need to change: 
Application developers just must understand the importance of the UI. The greatest failure potential for developers aiming to provide next era solutions is that they don't fully understand the importance of the UI. The UI focus has lately become immense. Potential customers expect that the UI is Web-based, elegant, very responsive and flexible. Developing for 2012 and beyond involves the challenge to include great UI skills into the development process from day one. As a result I hope to see how developers are competing to create the best user experience.
Gartner's predictions for 2012 states that "supply chain executives will emerge as leading contenders for the CEO role at global companies." Why not CIOs? Although there are great examples of business-oriented CIOs there is room for improvement at many places. For the sake of accelerating supply chain performance new software solutions are necessary. To smoothly achieve this there is a need for IT to support and cooperate with the business side on the basis that a) every software deployment should be about improving the business and b) that old IT preferences must never be a roadblock for realizing a good business case.
On top of these two changes is it of course very important that companies inspire and encourage its people to become ever better change agents. With that purpose, it pays to remember that a cook is not a man who first has a vision of a pie and then tries to make it. He is a man skilled in cookery, and both his projects and his achievements spring from that skill. 
Good luck with 2012!